What is G Suite?
G Suite is designed to be smart, simple, and secure. Watch this team complete the impossible task with the power of G Suite's collaboration and productivity tools.
Get more work done, faster. G Suite is a cloud-based productivity suite for your business that helps you get work done from anywhere on any device.
Millions of organisations around the world count on G Suite for professional email, file storage, video meetings, online calendars, document editing and more.
These are some highlights:
Business email for your domain – Looking professional matters, and that means communicating as [email protected] Gmail's simple, powerful features help you build your brand while getting more done.
Access from any location or device – Check emails, share files, edit documents, hold video meetings and more, whether you're at work, at home or in transit. You can pick up where you left off from a computer, tablet or phone.
Take Gmail to work
Google's ultra-reliable servers guarantee 99.9% uptime on your business email. Industry-leading spam filters keep junk out of your inbox.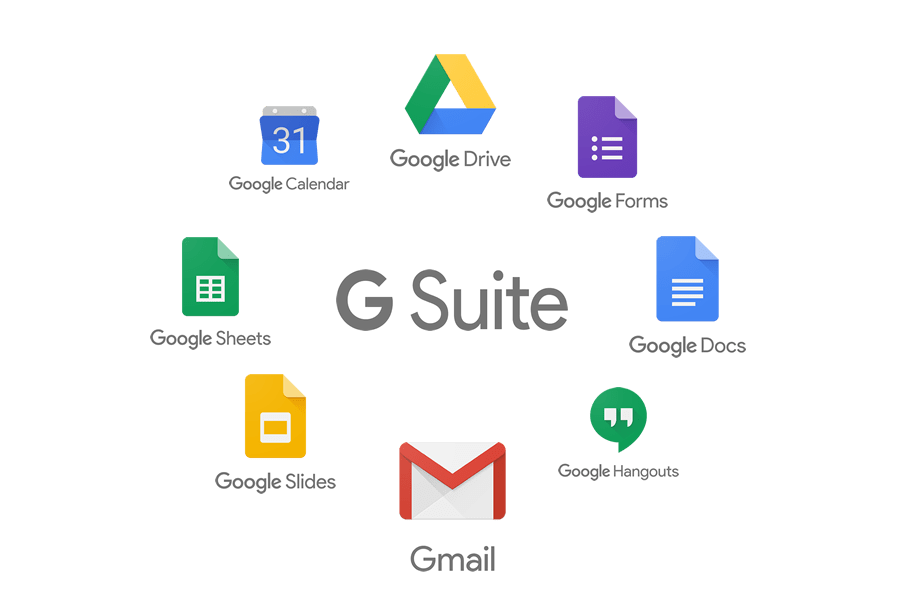 Promo Code for
G Suite Basic Plan
FCLV9KUNGWV4Q9P
Promo Codes for
G Suite Business Plan
FAFUAQUTKNQNMQL
Each promotion code provides 20% off the first year on either the G Suite Basic plan or G Suite Business plan*.
FAQ
Q. Can I use my existing domain with G Suite?
Yes, you can use an existing domain with your G Suite order.
Q. What happens to my existing mail, contacts, and calendar data when I move to G Suite?
When switching to G Suite from another program or web service, you and your users can bring your existing mail, contacts, and calendar data with you. You have a variety of options for migrating data into G Suite, depending on the size of your organization and the system you're migrating from. Tools are available for migration from Microsoft Exchange, Lotus Notes, IMAP servers and other Google accounts
Q. What is the space provided per Email Account?
Each email account comes with 30 GB space.
Q. Is G Suite compatible with the email client I use today?
In addition to accessing G Suite mail from the Gmail web interface, you can send and receive mail from your favorite desktop client. Depending on the client, you can use either the IMAP or POP mail protocol. If you're switching to G Suite from Microsoft Exchange or some other Outlook service, you can use G Suite Sync. This is a plug-in for Outlook 2003, 2007, 2010 or 2013 that lets you use Outlook to manage your G Suite mail, calendar and contacts—along with your Outlook notes, tasks and journal entries.
Q. Can I manage multiple domains with G Suite?
If your organization acquires a new domain name or does business at multiple domains, you can add all your domains to your account at no extra cost. Users can then have identities at one or more of your domains while sharing services as part of a single organization. And you manage your domains from the same Admin console. You add a domain as either a separate domain or domain alias, depending on how you plan to use it.
Q. Can I create mailing lists?
Yes, you can create mailing lists and add/delete users, select a moderator, restrict people from joining a list or even ban users from a list.
Q. What is your SPAM policy?
When you sign up for a G Suite account, you agree not to use the account to send spam, distribute viruses, or otherwise abuse the service. All users on your domain are subject to these agreements, which are part of the G Suite Acceptable Use Policy. If Google identifies a G Suite user who is violating these agreements, we reserve the right to immediately suspend the user. If the problem is domain-wide, we reserve the right to suspend the entire account and deny administrator access to all the G Suite services. In such cases, we send a notification to the registered secondary email address for the domain administrator.
Q. Can I use Auto Responders?
Yes, you can. Use Gmail's vacation responder to let people know that you won't be able to get back to them right away. While your vacation responder is turned on, Gmail will send your reply to people who email you.
Q. Can I transfer my existing G Suite?
Yes. During the transfer, we move all your email accounts from the old provider to us by keeping the data intact. However, your existing tenure with the other provider, if any does not get moved to us. You can click here to initiate the transfer process.